Disclaimer: This product was provided to me for free to write this review about, yet my opinions about the product are my own and I have tried my best to provide an honest review.
Most photographers spend their more time editing photos instead of actually creating photos, unless you maybe don't actually do your own post processing. One of the ways to shorten your time spent in post processing is using presets in your photo editing workflow. In the past I was working with Apple Aperture, yet as Apple decided to drop the product I since then use Adobe Lightroom CC.
Searching for presets on the internet results in an abundance of available presets and bundles, both premium (paid) and free. Before I was contacted by Jane of Sleeklens I didn't know about the availability of their offerings (which includes a professional photo retouching service), yet I have found that the "Through the woods" landscape photography presets they offer are quite good. Alright, I'm getting ahead of myself…
With the landscape photography presets and brushes you do get an awful lot of options; from all in one presets, to just some polishing and correction presets. My first impression was that some of the all in one presets are somewhat over the top for my particular taste in post processing, see example below. Yet others inspire me to try out new styles, and try out black and white photography more.
The presets and brushes that I have been using in the past weeks are based on polishing up an image, giving the image a certain tone that my camera didn't catch, and some exposure corrections. Based on these presets I have discovered more clearly the effects of clarity on an image and the cumbersome work of correcting the exposure, contrast and the overall tone are now made easier with these presets.
Sure, I tweak every single image after applying a preset, yet the basis for the image is there, which for me is a gain in time. It saves me time to dive into Photoshop to work extensively on my photos, although Photoshop isn't banished from my workflow completely. Sometimes I still like to work on images with the Nik Collection, although some of these effects can be achieved with the "Through the woods" bundle.
Is the "Through the woods" bundle worth the $39 dollars that it currently costs? Yes, I think so. Is it the magic bullet to make your photographs better? Nope, but it can give your photographs a nice finish before you publish them. And they're a lot better than the Instagram filters!
For more information, and other bundles, have a look at Sleeklens' offerings here, or their Youtube channel. Their blog is also a good source for some photography and editing tips.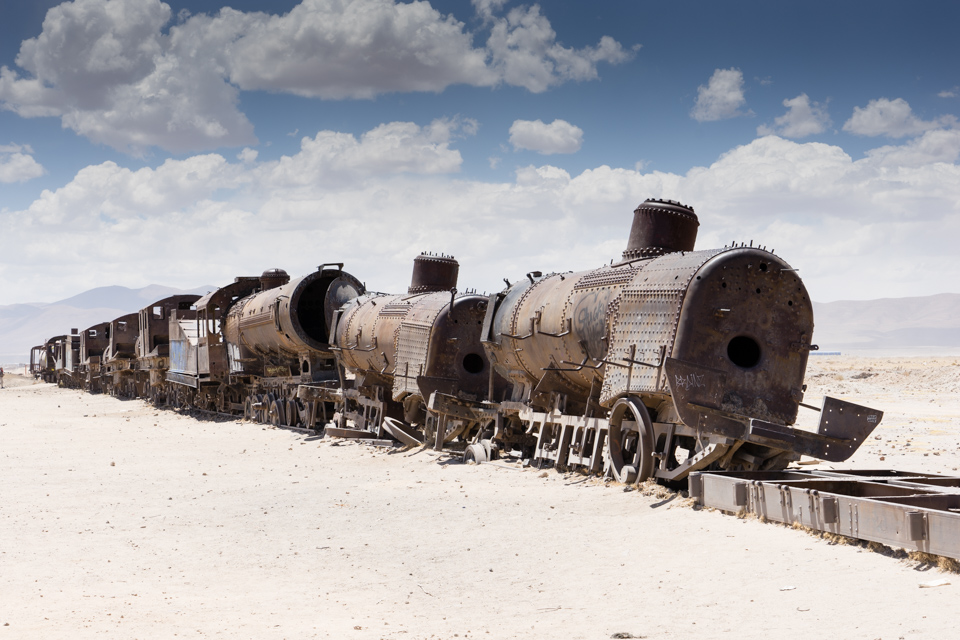 After having seen the natural wonders that the Bolivian altiplano has to offer, we were shown the Uyuni train graveyard at the end of our 4WD tour. In essence, it was just a junk pile, where also quite a few decommissioned trains had been lined up. Due to the lack of humidity they do not show a lot of rust.
Last weekend the Spanish "La Vuelta" came to a close with a massive sprint on the streets of Madrid. As a now resident of this beautiful city I took the opportunity to view the cyclists ride about 8 laps over Paseo del Prado, towards the finish line.
In order to keep learning and expanding my knowledge, I've presented a challenge to myself last January; read at least 20 books this year. It was also focused on having something to do during my commute to work by train, instead of just staring out the window or sleeping/dozing in the morning. Who knew that the Madrid metro doesn't have a good view outside, only dark tunnels … 😉
Intentionally I didn't set the challenge to read specific books, I do like to mix things up a bit with regard to genre or type of book. Some books lead me to new books to read, and others are just a nice read to focus on something else. The way I read, I usually read a few books in the same time span. For instance a fiction paperback and an non-fiction ebook, of course not reading both at really the same time, but picking one over the other at times during the day.
List of read books this year
"Deception point", Dan Brown; A re-read, as I read the book when it originally came out, but forgotten about the story.
"The martian", Andy Weir; I read it based on recommendations by @shawnblanc, and due to the movie release.
"Digital fortress", Dan Brown; A re-read, as I read the book when it originally came out, but forgotten about the story.
"Raveleijn", Paul van Loon; A Dutch book for teenagers, read it due to the name which is the same as the apartment complex I was living in at the time
"Linchpin", Seth Godin; Becoming an indispensable employee, or insights into creating a network of people.
"De bijenherder", Rini van Solingen; Self-organizing teams need a different kind of management
"Screw it, let's do it", Richard Branson; Short autobiography of Richard Branson, of sorts.
"The five dysfunctions of a team", Patrick Lencioni; Building a team told through a story, I do like the style of writing by Lencioni
"The road headed west", Leon McCarron; Inspiring story of a cycle tour through the USA
"Head first: Design patterns"; Default patterns in software to benefit solving some problems
"Turn the ship around", David Marquet; Marquet describes his learnings on implementing the leader-leader model as a US Navy submarine commander
"The art of non-conformity", Chris Guillebeau; Live your life, don't live someone else's life
"The 4 hour body", Tim Ferriss; Ferriss explains that with a few 'hacks' you can accomplish a lot without having to put in a huge amount of effort
"Vagabonding", Rolf Potts; Not going on a holiday, but travel longer to slow down and experience life.
"To the ends of the earth", Ranulph Fiennes; the story about the TransGlobe expedition, the circumnavigation of the earth across the poles.
"The sixth extinction", James Rollins; well-written biotechnology thriller
"Killing floor", Lee Child; The first Jack Reacher novel, started reading it completely unrelated to any Tom Cruise movie…
"Subterranean", James Rollins;
"The effective engineer", Edmond Lau; A recommended book for developers, inspirational in focusing on high-leverage activities. Working smarter, not harder.
One thing that I noted in this list that I actually forgot, is that at the start of the year I read more fiction, and currently reading more non-fiction books. Noteworthy to mention, that spending time at either airports, in airplanes or in public parks opens up time to read a book.
Do you have any noteworthy books as a suggestion?
When asking any photographer what he or she thinks about tripods, you'll get different answers, as most people will have different needs for their tripods. There is one common denominator; the tripod should provide a platform stable enough to take sharp pictures. Though some require a tripod for one to two second exposures, and some for timelapses that run for hours where the camera needs to stay in the exact same position, and others for blending multiple exposures of the same scene over the course of hours. This difference in usage results in different tripods and heads to suit their specific needs.
"The thing about the smaller ones is that if you need a 30 second exposure and there's any wind, you've got next to no chance of making a sharp image. That's why I don't think of these as "travel" tripods. Because it's not the traveling that I need it for. It's the making sharp photographs. And if the tripod doesn't do that, what good is it?" David DuChemin
Personally, I'm using a tripod currently for longer exposures, nighttime photography and exposure bracketing. My idea is also to experiment with video, astrophotography and time-blending photos, inspired by the Elia Locardi & F-Stoppers landscape photography tutorial and cityscape photography tutorial. A few years ago I got a cheap alloy 4-section tripod that has accompanied me literally around the world, from New Zealand to Iceland to support a Canon DSLR. This has taken its toll on the tripod, and it is now a wobbly bit of metal that only is sturdy when two sections of the four are extended and when there is no wind. It thus calls for a replacement, yet what to look for?
Thom Hogan wrote a clear article about the requirements for a tripod, and that you can either spend a whole lot of money investing in multiple tripods over the course of a few years, or spend less when buying the right tripod and head from the start. The most important part in his article for me personally are the requirements for a new tripod, on which I based my own requirements:
Stable and solid platform for a 35mm camera + 70-200mm f/2.8 telephoto zoom lens, will not move to a medium format
One time investment; it should be built to last and future proof, not having to buy another tripod again in a few years.
Small and light enough that I want to carry it with me, yet tall and heavy enough to raise camera securely to about eye level (about 180 cm) on even ground when mounted on ball head in adverse weather conditions:

Flight carry-on compliance is bonus points, but should always fit inside my The North Face duffel
Maximum of four leg sections.
Platform height of 125cm is acceptable.

Easy to clean and maintain in the field.
No center column, as I'd like it to get low to the ground.
At first my thoughts went in the direction to purchase one tripod and head that met all my criteria, even the flight carry-on compliance. Though, I've been swayed into the direction of purchasing two separate tripods and heads to accommodate my needs better. A tall, heavy duty tripod and ball head combination, that should weigh no more than about 2 kg, for travels and personal assignments that focus on photography, and a lighter tripod that is travel-friendly (i.e. carry-on compliant). Coming years I'll probably travel and fly a lot more than in past years, sometimes with only a carry-on sized backpack, and at times with check-in luggage.
Matt K of onOne software makes a good argument in the same fashion as my thoughts go; you do need a strong tripod, but you can't always bring the largest one you have, and then having a small tripod with you can still be beneficial as long as you are aware of the drawbacks. It is all a trade-off. Similar situation with cameras; I don't carry my Sony A7II or Fuji X100 everywhere I go, but I practically always have my iPhone with me. The best camera is the one that's with you.
Based on a lot of reviews and blogs (Luminous Landscape, Tools & Toys, Pentax Forums), I have decided on the following two tripods and ball heads: – Full size: Really Right Stuff TVC-24L tripod + BH-40 lever-release ball head – Travel friendly: Sirui T-025X tripod + C-10X ball head
Mind you, these setups are not cheap, but I intend that particularly the RRS will last me a life-time, and I'm saving my pennies for it. I have been swayed to select the TVC-33 by Really Right Stuff as my full size tripod paired with a BH-55 ball head, yet that is overkill with the gear that I currently have and expect to own, and that combination weighs too much in my opinion. Lighter camera systems also allow for somewhat lighter support gear; the TVC-24L is rated to support a whopping 18 kg, and the BH-40 for a load capacity of 8 kg, way more than the gear I plan to put on top of it (Thom Hogan wrote that a good tripod should "hold its position no matter what the angle of the camera").
Review of the Sirui T-025X tripod + C-10X ball head
Recently I've purchased the Sirui T-025X as my
travel friendly
tripod, and I'm quite delighted with the quality and stability of it. It feels more stable than my metal alloy Redged RTT-423 tripod, yet isn't quite as tall. I really have to sit on one knee to work with the Sirui, and that is a compromise I'm willing to make for the portability. I can strap the tripod to my
F-Stop
Loka UL backpack, or even inside it, so that I can carry it on an airplane.
The specifications that matter to me: – Load capacity: 6 kg – Collapsed size (without center column, and not folded over itself): 40cm – Weight (without center column): 0.8 kg – Number of leg sections: 5
The stability of the T-025X is quite alright; when I've got my Sony A7II + Canon 70-200mm f/4 mounted without using a lens collar and the tripod legs in their smallest spread, I do see some movement in the image at longer focal lengths (> 135mm) when handling the camera or lens (for instance slowly focusing). Yet when I've got the Sony 24-70mm f/4 mounted on the body I can't see any movement. I think that mounting the 70-200mm with a tripod collar on this tripod will improve the stability, as the weight of the combination will be more centered. What I really like about the Sirui are the twisting leg locks, these are way easier to use than the clip leg locks on the Redged, wouldn't want anything else anymore on a tripod. When the tripod is collapsed it is for me easy to grip all locks and twist them open in one go, pull the leg sections out, and then with a short twist close the leg locks separately. It feels faster, and a lot more elegant, than the leg clips to setup the tripod. Same goes for collapsing the tripod, though in reverse order. The ball head is OK; compact, lightweight and compatible with Arca Swiss/Really Right Stuff camera plates. With the Sony A7II and 70-200mm f/4 combination (without lens collar) I don't notice any drop of the ball head when left locked and untouched for half an hour. The thing I don't like about the ball head is the clamp; the screw clamp is cumbersome to open and close, I do prefer lever release clamps for their speed and simplicity.
Overall the Sirui does its job as the travel friendly tripod; short collapsed size, stable and a low weight. A good companion for a city trip when traveling with only one bag, or when traveling really light.
When I have purchased the Really Right Stuff TVC-24L I'll write a more extensive review of that tripod.